Suggestion from Kamloops
2014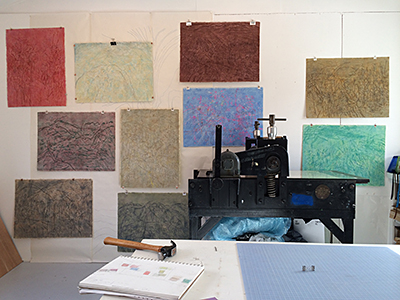 These are ten drawings that Rhonda and I completed in Kamloops for our upcoming show at the Kamloops Art Gallery. We will be exploring some new ways of presenting this work. The drawings will be unframed and floating about 1½ inches off the walls and we will be drawing on the walls, too.
Craig Willms who is curating this exhibition has written, "For the project in The Cube, the artists walk Kamloops to make marks that reflect their movement across the topography and hint at visual elements of their surroundings. The works combine a type of intaglio technique on paper with drawing. Gouged marks and an absence of pigment combine with drawn lines and fields of colour to represent the terrain and landmarks of a specific locale. It is a visceral process that pushes their collaboration to explore print media and drawing beyond traditional techniques."
The exhibition runs from April 5 to June 14.